William Henry Wortman (1875-1936)
l-r: Susie Wortman, Eva Wortman, Noel Wortman and William Henry "Bill" Wortman
This photo was taken in Saskatchewan, when Bill Wortman was foreman for the CPR. Note caboose in background.

His sister, Eva Victoria Wortman, sits in the middle on the bumper.

Both Bill and Eva descend from George and Mariah Wortman through the Martin Wortman line.

MISTY the First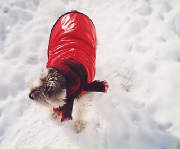 Snow bound
Harris, Lillie and Roy Seymour Wortman, 1909
Unity Ryder Wortman (1854-1924)
Great grandmother Unity was a direct descendant of "Mayflower" Pilgrim Fathers.
Unity Wortman has been documented as a descendant of William White (1621), Mayflower passenger. She can also be traced back to William Brewster and Stephen Hopkins, Mayflower passengers. She remained pious and God-fearing until her death in 1924. Contact the Mayflower Society for further information.

She never smiled in any of the Wortman photographs we have, even though others in the same photographs do smile.

She was stoic, severe and distant.

Our beloved Misty (1994-2006)
Faithful companion